It was a historic occasion on Tuesday 11th August, 2020 when the foremost HR body in Nigeria, CIPM recently signed a Memorandum of Understanding (MoU) with the renowned Institution of Occupational Safety and Health (IOSH), a Chartered body and leading membership organisation for safety and health professionals all over the world. The new partners made commitments to further the important goals of helping ensure people live healthy and safe lives. The signing of the MOU was done completely virtually, to much applaud on both sides.
IOSH CEO, Mrs. Bev Messinger, opened the ceremony explaining how delighted she was about the partnership and highlighted that HR practitioners can influence workplace protection and support OSH professional colleagues to do what they need to do to create a healthy and safe world of work. The CIPM President, Mr. Wale Adediran, MCIPM, in his opening remarks stated that CIPM constantly seeks ways to add value to its Members and society at large, which this partnership further enables with a strong focus on employee wellbeing in Nigeria – especially at a time like this in which we are all dealing with a global pandemic that is ensuring everyone pays critical attention to personal, communal, organizational and national safety. Alan Stevens, FCMI, Head of Strategic Engagement, IOSH, pointed out the fact that this pandemic makes it highly critical to encourage and drive employee health, safety, and wellness. He noted that the best way to make an impact is through partnerships such as with the CIPM, which for IOSH is a welcome development, further boosting their efforts in Nigeria.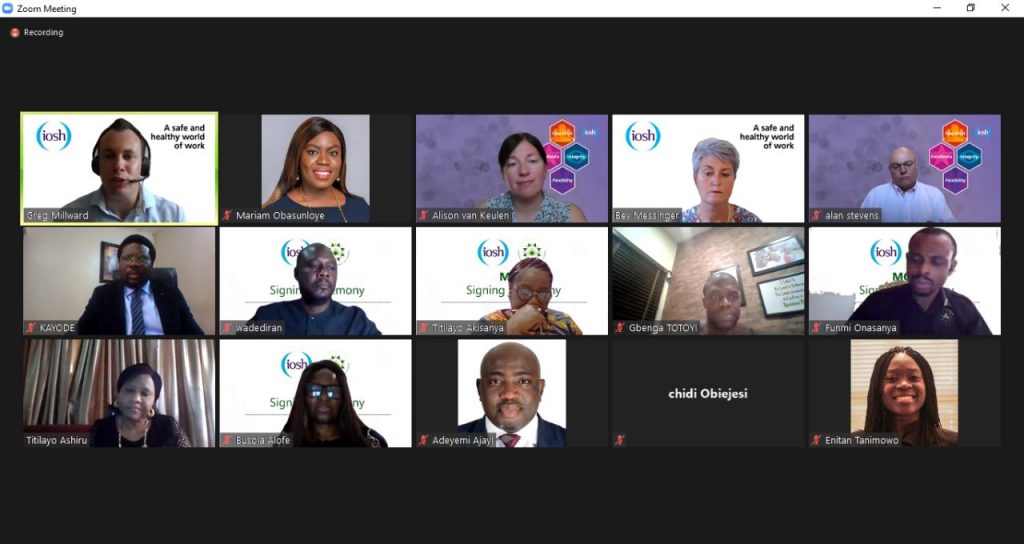 According to the Registrar/CEO of the CIPM, Ms. Busola Alofe, MCIPM, the elements of the partnership between the CIPM and IOSH feature collaborative efforts including cross-disciplinary HR and OSH learning and development interventions and the creation of a right to practice framework for Nigerian HR practitioners Nigeria that may open up new career prospects. These would clearly strengthen integrated OSH and HR skills in practitioners from both disciplines, ultimately helping develop more rounded professionals.
The Vice President, CIPM, Mrs. Titi Akisanya highlighted the all-important fact that this is not just a partnership, but much more about saving lives, sustaining lives and strengthening competencies in HR. Mr. Kayode Fowode – Vice-President, IOSH, noted that this partnership will further carve a niche for developing a safer work environment in Nigeria.
The collaborations between the CIPM and IOSH commence in August with the delivery of Health and Safety awareness training programs, courtesy of CIPM's Virtual Learning Hub and IOSH Faculty.