The 14th Special Human Resource Forum
Theme: Improving People Productivity and Engagement in the Current Economic Reality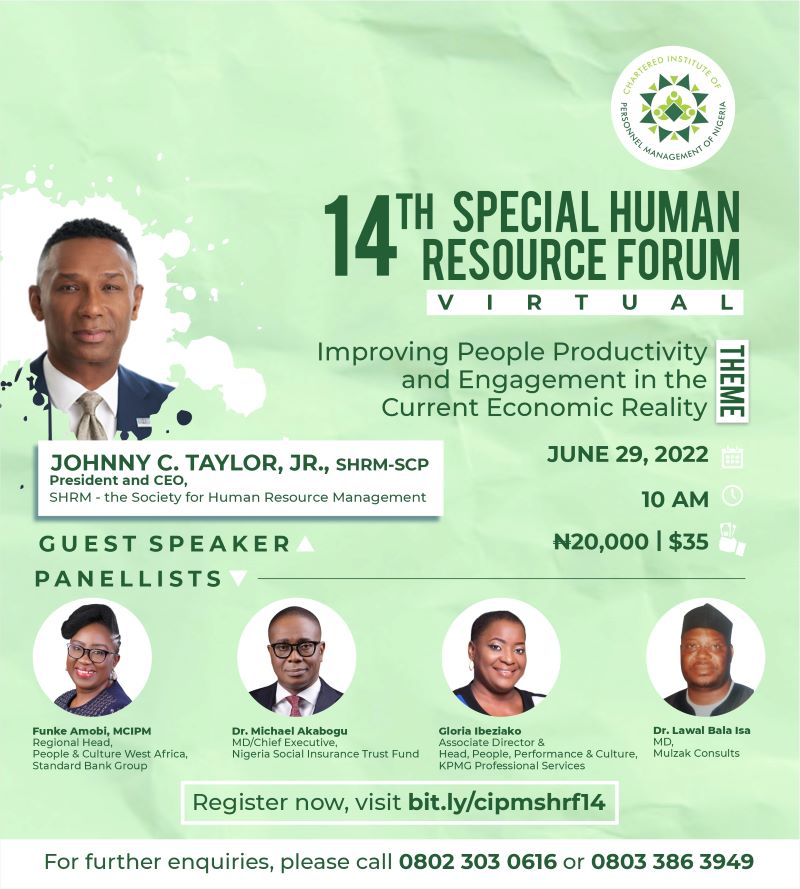 The means or factor of production (either as services or product development) are critical in the development of the economy of a nation or more specifically, organisations, especially at a time of raging economic challenges occasioned by the following:
Inflation: occasioned by the rising cost of critical raw materials, exchange rate and highly decrease importation dynamism.

Insecurity: this has no doubt, impacted negatively on people's productivity as the onslaught of the COVID-19 pandemic brought to the wake, a high-level brain drain, loss of jobs and livelihood, little or no foreign economic investment as well as business somersault. Insecurity on the roads, homes, places of worship etc. has negatively affected economic views.

Unstable/unpredictable government policies in the area of fiscal policy, most of which are a result of lingering national or global economic realities.

Natural disasters or force majeure as the case may be.

Alterations in the production process or internal business process or structure in 0rganizations.
This means that a commensurate effort at bringing in equilibrium that will cushion the effect of the highlighted hazards above is not only important but inevitable looking at the means or factors of production, which labour is part of and remains critical in the development and profitability of business and entrenchment of sustainability in business.
It, therefore, behoves us as Human Resource practitioners to deploy tactical ways and means to ameliorate challenges, volatility or complexities that may arise from such economic difficulties as mentioned above.
The program will delve critically into the following:
Employee motivation and engagement especially looking at factors that have cushioning effects.

Critical skills and knowledge management especially in order to create acute competitiveness that will lead to performance and profitability.

Possible Workers Disengagement, rationalization and multiplication or addition of tasks and responsibilities.

Critical Stakeholders management approach that will fit in the new economic reality.

Rational employee Performance management system that will ensure stable high performance.

Leveraging on key critical Technology, creativity and innovations.
These, among others, form the interesting aspect that both the speaker and the panellists will be dealing with in order to get the participants well enlightened.